Reading Time:
4
minutes
We are lucky to live in a generation where there is someone to tell us that if we buy stocks and hold them forever, we will be rich and financially free some day. My parents were not so lucky. They were not exposed to the right kind of people who would tell them to invest in stocks.
My father started earning somewhere in 1985. He knew about stock markets. He would buy stocks. But his longest holding period was not forever. It was a few weeks or months. Had he only invested Rs. 5,000 in the Sensex (the oldest index of India) every month from 1985, our net-worth would have been way higher than what he left us in 2012 when he passed away. This would put us in the top 1% in the country. But that did not happen.

You must have read stories on twitter or heard from your friends about how stocks like Amazon, Facebook or something like HDFC Bank in India have created enormous wealth for their investors who have held on to the stock since inception. These stories never tell you that Investing in the markets or holding the mighty Amazon is not a one way ride. Ben Carlson of A Wealth Of Common Sense highlighted how stocks like Amazon crashed 95% in the tech bubble, twice for more than 50% in 2005-6 and 2008 and it lost 25% or more on five other occasions.
Backtests Do Not Factor Emotions
Compounding is a force well understood by the market participants. Everything looks good in hindsight. Backtests do not factor the emotions one has to go through to achieve such results. Do you think my father would have continued to invest in the sensex despite it falling for more than 20% on five occasions, more than 50% once and almost 40% once. Do you think he would have continued to invest in the index that did not go anywhere from 1993 to 2002 and remained at same levels? Making money in the markets is more about emotions and less about intelligence.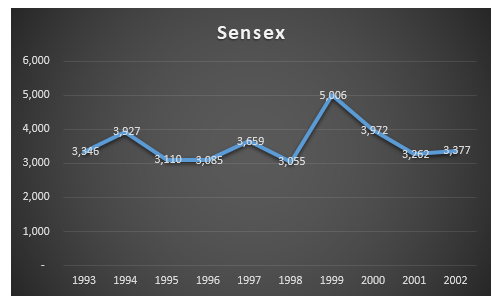 When the indices have had corrections of almost 50%, what is the certainty that one would continue to hold stocks which would obviously have higher declines? The only certain thing is that there is no certainty in life and in markets. It is not easy for a common man to ride out the vagaries of the stock markets. You need to do a lot of work. You need to figure out everything from your asset allocation, how much you want to invest, where to invest and most importantly, how to control your emotions to ride the markets. You need to plan for all your expenses and cash outflows well in advance to never interrupt compounding.
What Is Then The Work Required To Hold Stocks?
Remain ground and unflappable during tough times. Survival is the key.
The only way to ride the market downturns is to hold so much cash that you are able to ride the bear markets with a smile.
Train your mind to tell you that the future of your family is not in doldrums.
You need to hold a highly diversified portfolio. You would not be able to hold an Amazon if it formed 20% of your portfolio and it crashed by 50%.
Protect your downside. Cover all your risks. That's the only way to ride the upside.
---
What Am I Reading?
Disclaimer: The opinions expressed in this publication are those of the authors. They do not purport to reflect the opinions or views of the FinMedium or its members. The presentation of material therein does not imply the expression of any opinion whatsoever on the part of the FinMedium concerning the legal status of any company, country, area, or territory or of its authorities. For more info. please read our ToU & Privacy Policy here. If you have any concerns regarding this post, please reach out to us at finmedium@gmail.com
---